FamilyTreeDNA P*rr*tt Project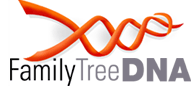 The Parrott DNA Genealogy Project is a project run by FamilyTreeDNA to analyse the DNA of as many members of the family as possible and trace their links.
While the project is well supported and highly regarded, there is no connection between the P*rr*tt Society and the Parrott DNA Genealogy Project. However, we are pleased to provide the following links to the project and to more information about the FamilyTreeDNA initiative.
Parrott DNA Genealogy Project analyse your DNA and compare with other P*r*tts
Genetics & Genealogy - An Introduction
Kerchner's DNA Testing & Genetic Genealogy Info and Resources Page
Tracing Your Ancestry Through DNA