Links to other sites of interest to family researchers

Featured Site
There are people - not many, to be sure - who haven't heard that the world is round and that the moon isn't made of cheese. Their genealogical equivalent is Internet researchers who haven't heard of Cyndi's List (www.cyndislist.com). Just in case a Society member is one of them I would like to tell you a little about this remarkable and quite unique site. Cyndi, by the way, is Cyndi Howells from the USA.
To answer the question, "What is Cyndi's List?" I can do no better than quote her own words as they appear in the FAQ (Frequently Asked Questions) section of the site. It is, she says:
| | |
| --- | --- |
| | A categorized and cross referenced index to genealogical resources on the Internet. |
| | A list of links that point you to genealogical research sites online. |
| | A free jumping off point for you to use in your online research |
| | A 'card catalogue' to the genealogical collection in the immense library that is the Internet |
| | Your genealogical research portal onto the Internet |
In short if you want to track down almost any site which you believe may help your research you will be able to connect to it through the list, as well as a vast number of others that you had no idea existed. To ease the task of sorting through the seemingly endless sites available there is an index of topics with an indication of how many sites can be found under each heading. At random: Census related sites worldwide (317); City Directories (218); Cousins and kinship (38); Huguenot (133); Immigration and naturalization (478); Names (121) and Quaker (164). These few topics are the tip of the iceberg; dozens of other subjects are listed.
If you need a good guide to doing research in the UK using the facilities of the LDS, otherwise known as the Mormons, Cyndi's husband Mark - a genealogist in his own right - has provided a comprehensive and very readable article as part of Cyndi's List. Here's how to find it:
Open the website and select FAQ's
Select 'Personal Questions' at the bottom of the page.
Select 'Mark and Cyndi's Family Tree'
Select 'Mark's research including the UK and Ireland'
Select 'Mark's outline for researching ancestors from the United Kingdom'
Since our main preoccupation is with the name PARROTT and all the variations on it, I thought I would spend a few minutes browsing for the name using Cyndi's List and what follows is a summary of the results.
First the Rootsweb page described as " A mailing list for the discussion and sharing of information regarding the Parrott surname" Rootsweb cover many hundreds of surnames in this way and will be the subject of an article in a later issue of 'Family Notes'.
Then the site of the Calvary Cemetery (surnames N thru Q), Cochise County, Arizona, compiled by the Cochise Genealogical Society. This produced a mention of the burial of Francis Priscilla Parratt there on June 7th 1925.
At Ancestry.com (another site we will look at in greater detail in a later issue), a quick glance at the 1900 US Federal Census showed many Parratts, among whom I have selected at random Ada
Parratt of Pulaski, Indiana, white, born about 1858.
The New Zealand Genealogy Search Engine brought up a reference to Private T. Parrott, who was amongst the fatal casualties suffered by the ANZAC force at Gallipoli during the First World War. A little gem of a site, the 'Dead Fred Genealogy Photo Archive' showed a delightful photograph, reproduced below, showing 'Aunt Mary Parrott'. Although, tantalisingly, the place in the USA and the date of the photograph are not known, I nevertheless think it is a beautiful record of someone's family - could
it be yours?
Purely by chance most of the sites I have listed are from the United States, mainly because organisations there have seized the relatively new medium of the Internet to present their information to the world. To provide balance, I now searched for entirely British sites. Here are a couple I found by using Cyndi's List::
Wiltshire Family History Society, 'the site for Family Historians with roots in Wiltshire.' The site is well run and informative and includes a Guide for Beginners maintained by Jean Cole, a name familiar to readers of 'Family History' magazine.
The National Burial Index is at www.my-history.co.uk. The site advertises their latest index on 4 CD ROMs; they have recorded over 13,000,000 (yes, thirteen million!) of the burials recorded in the UK.
I could go on endlessly but I hope I have conveyed to you the unique service offered by 'Cyndi's List'. Using it you can link to a vast number of genealogical sites as you pursue our hobby. The search for great great great grandfather can be made immeasurably easier using this unique aid for finding well known as well as little known web sites. Use it ...and by the way, it's free!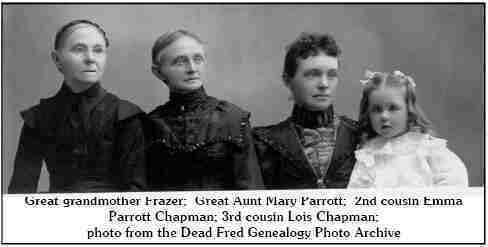 Other Genealogical Links
United Kingdom
World Wide
Members' Pages (and other P*rr*tt related sites)
Links become outdated and sites can disappear altogether. I would welcome notification of errors or suggestions for other sites for possible inclusion on this page.